Discover more from 18 Degrees North Investigations
18° North Investigations is an investigative journalism newsletter whose main purpose is to uncover stories related to the Caribbean that have global impact.
Over 3,000 subscribers
After Few Infections Initially, Haiti's COVID-19 Cases More Than Double This Week.
But 19 Other Caribbean Nations See No New Cases.
The period covered is as of 12:30 p.m. EST on both days between May 7-14, 2020. As a result, numbers updated afterwards will not be reflected in the data. The coverage area includes 42 countries or islands that have a Caribbean coastline and/or are members of CARICOM.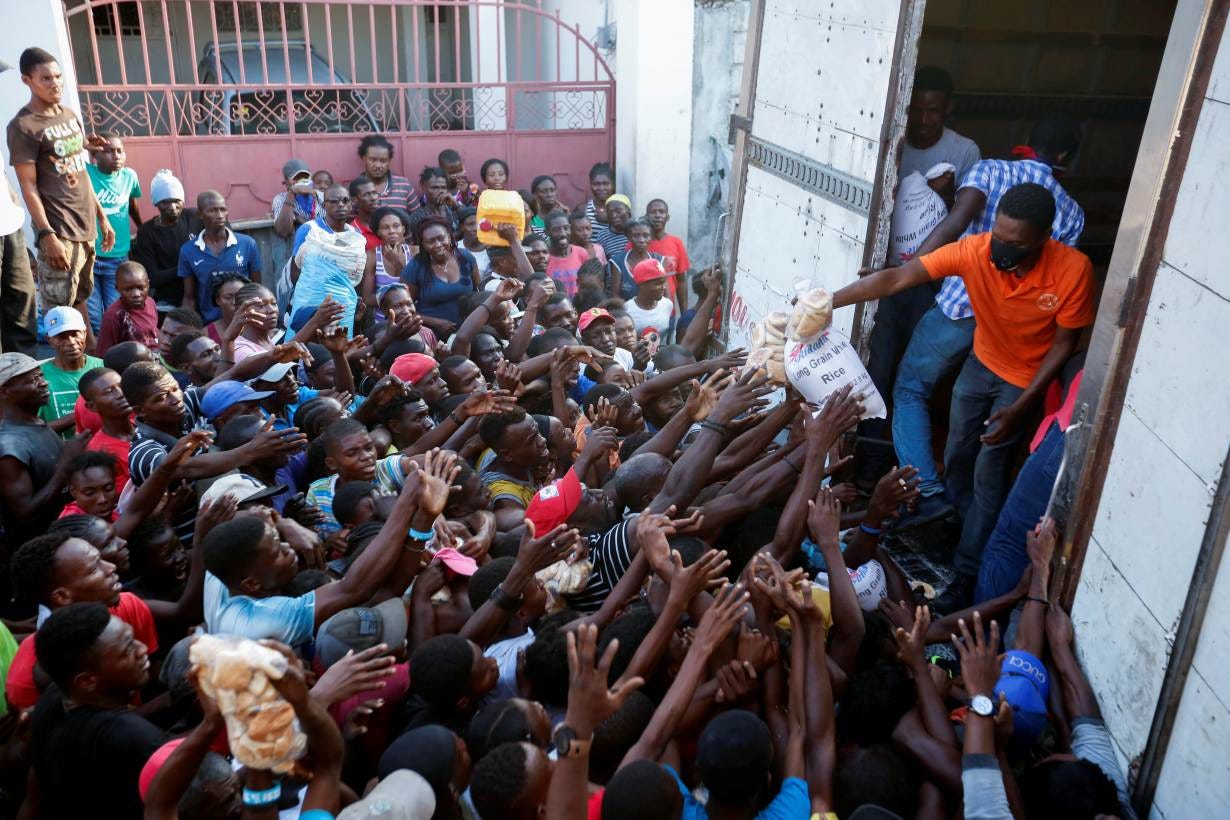 Food is distributed from a truck by a Haitian government program amid the spread of the coronavirus disease (COVID-19), in Port-au-Prince, Haiti April 6, 2020. Courtesy: REUTERS/Jeanty Junior Augustin

FINDINGS:
Haiti's confirmed cases rose to 234 this week from 108, a spike of 117%, the biggest weekly percentage gain in the 18º North dataset. Thomson Reuters Foundation, quoting a doctor helping lead the country's response to COVID-19, said that peak infections will likely occur in June, which would coincide with the start of the hurricane season. The doctor said, based on a model developed by Weill Cornell Medicine College in New York and the University of Oxford, COVID-19 deaths in Haiti would range from 5,700 in the best-case scenario to 17,000 in the worst. Haiti had reported 18 deaths as of 12:30 p.m. EST on May 14.

Mexico's cases topped 40 thousand this week, coming in at 40,186 up from 27,634 last week, a rise of 45%.


Nineteen nations recorded no new cases this week, including St. Vincent & The Grenadines, St. Lucia and St. Kitts & Nevis. This is up from 16 last week. Caribbean governments have begun to set plans to resume tourism this summer.


Courtesy: Pixabay.com


Almost a third of Nicaragua's COVID-19 cases, 8 of 25, have ended in death. Dutch St. Maarten is next with 19% of patients who contracted the virus having died, followed by the British Virgin Islands at 14%.

Guatemala joined the ranks of Mexico, Colombia, Dominican Republic, Honduras, Panama, Cuba and Puerto Rico in reporting cases that exceed 1,000 each.


Colombia and Dominican Republic joined Mexico in reporting cases of more than 10,000 each this week.

Editor's Notes:
The percentage increases in each country should not be compared against another as factors and situations vary, including the date of the onset of virus detection and the nation's position on the curve, reporting intervals, how many people are being tested, who is being tested, test specificity and sensitivity, mitigation strategies against the spread of the virus, and demographic characteristics of the population, among other factors. Also…

·Percentage increases may not necessarily reflect rate of transmission because of various factors, for example, the level of testing.
·Deaths and recoveries are included in these numbers.
·These numbers are fluid. Some numbers would already have been updated by the time of this publication.
·Aruba, Curacao and St. Maarten are autonomous countries but are still considered part of the larger Kingdom of The Netherlands. Bonaire, Saba and Sint Eustatius are special municipalities of The Netherlands.
·Worldometer population data is now being used for the Turks & Caicos Islands.
·Some population figures are estimates of 2020 and some are from the latest available year.
We welcome your feedback. Please comment or send us an email. Share this free post. Tell a friend to sign up for 18 Degrees North Investigations at 18dn.substack.com!